M. A. DePompolo Products Investigations


Background Areas of Practice Contact Us Cost Analysis Budgeting EIEP PowerPoint A R Speech AOI Articles News Fee Schedule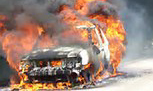 My goal is to build a firm foundation of facts by providing comprehensive and cost effective fact collection services to reduce overall litigation costs . The investigation will be integrated with case strategy to aid in case development and future handling. I have an Office Anywhere policy to meet local cost competition.
Welcome to M. A. DePompolo Products Investigations. Please take a look around the site and learn more about cost analysis and budgeting investigations, interviewing fundamentals and techniques, and benefits of professional facts collection.
Business Profile
A quote by scientist and mathematician Jules Henri Poicaré (1854-1912), "Value of Science" (1903) sums up my approach to facts collection:
Science is facts. Just as houses are made of stones, so is science made of facts.
But a pile of stones is not a house and a collection of facts is not necessarily science.
M. A. DePompolo Products Investigations is a sole proprietorship of Michael A. DePompolo. Mr. DePompolo has been a field investigator defending manufacturers from coast-to-coast consistently since 1977.
Low overhead and a technologically integrated office allow for high quality services at low costs. The business functions as a large full service office. It is funded, licensed, bonded and insured to guarantee performance. Factcollector.com and Factfinders.us are domain names and registered businesses of M. A. DePompolo Products Investigations.
Private Detective License #775, State of Minnesota.
Contact Information
Telephone

(763) 522-9639

FAX

(763) 302-9802

Postal address

4501 34th Ave. North, Golden Valley, MN 55422

Electronic mail

General Information:

madpi@msn.com
Send mail to madpi@msn.com with questions or comments about this web site.